Updated on September 7, 2023 | January 24, 2022
The perfect game day food ideas you need to score big!
It's time for the big game, and you're worried about whether your team will win or lose. Game day is stressful enough, so make it easy with Casey's! We are your one-stop-shop for all things essential for your game day watch party.
Whether you're gathering with friends or curling up on the couch with family, we can all agree that good football food is needed for a successful game. So, huddle up and intercept the best tailgate food line up for your best celebration yet.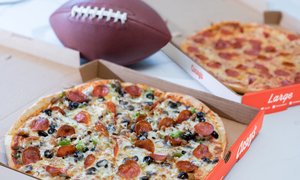 Start with Football Apps
As the game kicks off, you'll want to have a spread of game day appetizers and snacks for your guests or family of fans to nibble on. You can be sure that these favorites will start the party off right and keep everyone happy as they settle in in front of the big screen.
These classics will have you running back for more!
Our Can't-Miss Picks:
Wings for the Win
Known to be a popular football fan appetizer, order perfectly crispy wings to spice up the party! Choose from boneless or bone-in, plus pick your favorite sauces for pairing.
Put Your Subs In
Select your favorite sandwich or wrap and cut it into smaller sections to share with the whole team.
Easy Cheesy Breadsticks
Put our Cheesy Breadsticks in the center of the table and they are sure to go fast! Enjoy with marinara or cheese sauce for extra flavor.
Snaps for Pizza Snacks
Can't wait until halftime to indulge in pizza? We get it. Start with Casey's Pizza Snacks (don't worry, you can still eat more pizza later!).
Halftime is Pizza Time
Let's be honest, no football party is complete with pizza! By halftime, you'll be ready for the main course, and it will be waiting for you. Download the app and order ahead so you don't miss a second of the game!
A Slice of What We Love:
Up Your Game (& Your Crust!)
Brand new to Casey's! Try out our delicious new garlic crust for an extra blast of flavor. Simply choose your favorite pizza, tap 'Customize', and then select 'Garlic' under the Crust Flavor Options.
Competitive Crusts:
Most people know about our made-from-scratch original crust, but did you know that we also offer thin crust and gluten-free crust options?
Insider tip: Customizing your pizza with thin crust is a great way to keep things light with all your other delicious food!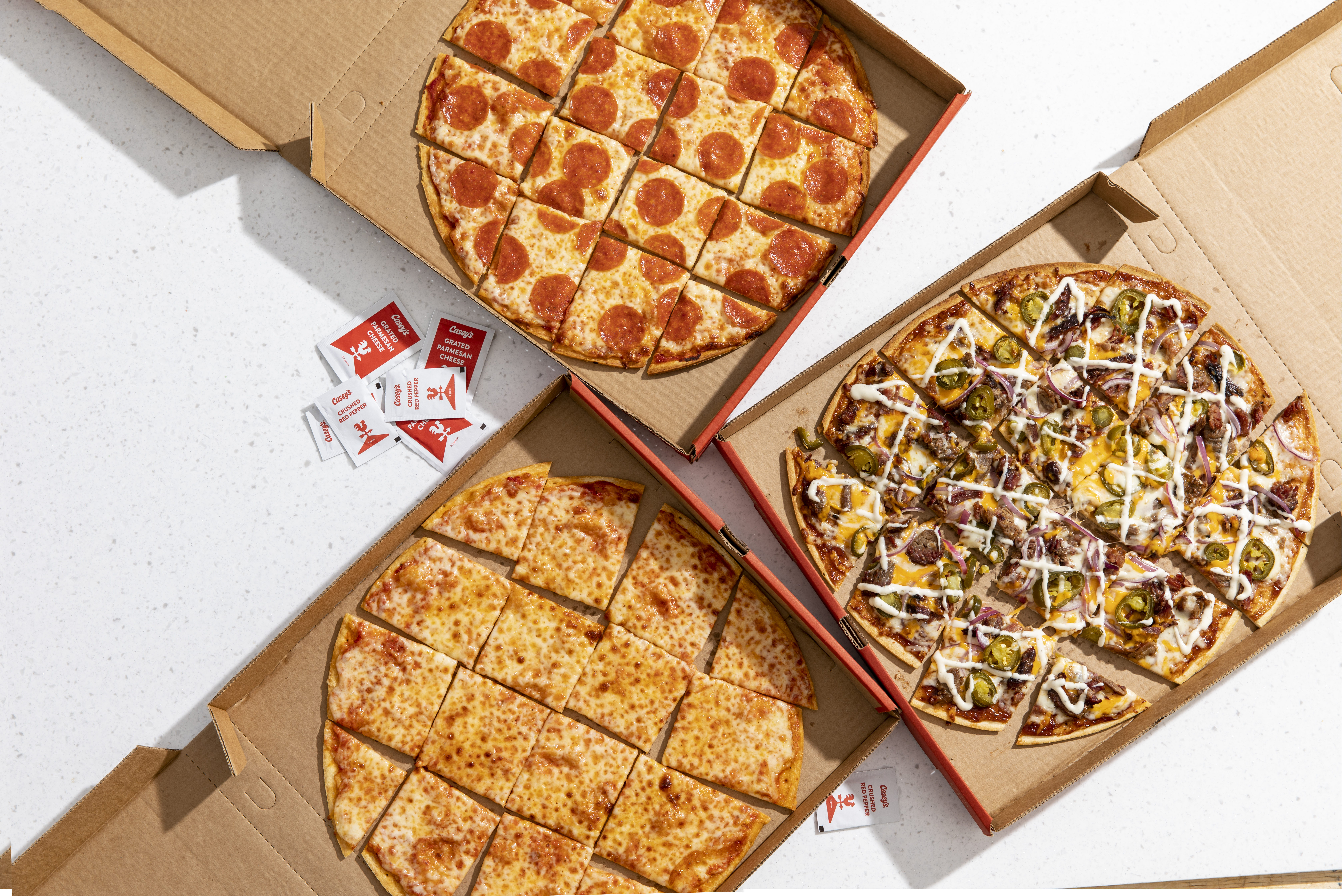 Specialty Pizza for Special Teams
Choose from our mouth-watering selection of specialty pizzas. You can also create your own pizza with all your favorite toppings for a huge win.
Looking for inspiration? Check out some of our favorite create-your-own pizza creations!
A Super Sunday Dessert
Almost to the end zone! The game is in the final quarter, and we have the perfect sweet treat. Whether you're celebrating the taste of victory or needing comfort food to ease the loss, we've got exactly what you need to end this game on a sweet note.
Crave Our Faves:
Brookie & Ice Cream Bundle
To make this sweet combo, start with your go-to flavor of Casey's Ice Cream, then crumble our Brownie Bites (aka a tasty golden chocolate chip cookie and brownie bar in one) into pieces on top of your ice cream.
The only other step? Enjoy!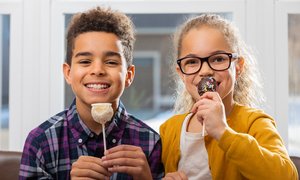 Make a Stop for Cake Pops
Touchdown! Nothing is better than a cake pop covered in chocolate and confetti sprinkles to (hopefully) celebrate a win.
Don't Forget the Drinks
Time out! You can't eat all this food with nothing to sip on. Grab a drink or two from our large selection.
Superstar Sips:
Hydrate & Hustle
With any flavors to choose from, sports drinks like Gatorade are a great choice to keep hydrated for all your celebration dances!
Soda Pop Stars
Put a little pep in your step with our selection of refreshing pop options!
Energy Drinks for All
If the game ends up being a bore, you might need one of our energy drinks to stay awake until the last play. Your team might even make a last-minute comeback!
---
Your best & easiest game day yet
With so many delicious choices all in one stop, you can make your game day a breeze. Don't forget to download the Casey's app and preorder your favorite pizza, snacks, and drinks ahead of time!
---