Updated on September 7, 2023 | September 7, 2023
Football season is PIZZA SEASON!
It's one of our favorite times of the year and we know it's yours too. Here's the deal - your time should be spent watching the game, not struggling with difficult recipes, so we've created an awesome lineup of 3 of the best appetizers that pair perfectly with our pizzas.
That's right! Super easy recipes with many ingredients that you can find at Casey's.

Easy Beer Cheese Dip
Only one step and it's so hard to stop eating once you've started! You can use any type of beer. The perfect party recipe!
Ingredients
2 packages (8 ounces each) cream cheese, softened
⅓ cup beer or nonalcoholic beer
1 envelope ranch salad dressing mix
2 cups shredded cheddar cheese
Pretzels for dipping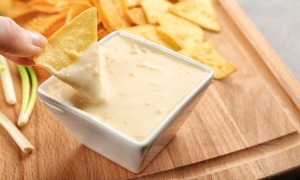 Directions
In a large bowl, gently beat the cream cheese, beer, and dressing mix until smooth.
Stir in cheddar cheese until desired consistency.
Serve with pretzels and enjoy!

Pro-tip: Busch Light is the perfect beer for this dip. Grab a 12-pk from select Casey's locations!
Savory Cracker Snack Mix
Another addicting favorite that will soon be your go-to game day snack.
Ingredients
Directions
Preheat the oven to 350 degrees Fahrenheit.
In a large bowl, combine cheese sticks, crackers, and pretzels.
Meanwhile, in a small saucepan, melt butter on low heat; then stir in remaining ingredients.
Drizzle over cracker mixture; toss to coat.
Spread the mixture onto a greased 15x10 baking pan. Bake until crisp and lightly browned, about 10-15 minutes, stirring every 4 minutes.
Cool completely in pan on a wire rack. Enjoy right away or store in an airtight container up to 5 days.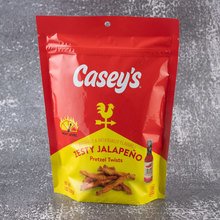 Pro-tip: Spice it up by using Lola's Zesty Jalapeño-flavored pretzel twists!
Double Cheese Sheet Pan Nachos
Touchdown! Enjoy this easy crowd-favorite recipe.
Ingredients
2 cups shredded cheese
Tomatoes
Onion
Jalapeños
Sour cream
Guacamole and Salsa
Lime juice, to taste
Fresh Cilantro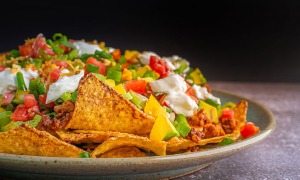 Directions
Preheat oven to 325 degrees Fahrenheit.
Spread tortilla chips out in a rimmed baking sheet.
Cover with cheese and bake for 12 to 15 minutes, or until cheese is golden brown and melted.
Remove from the oven, cooling for a minute, and then top with tomatoes, onion, and jalapeños to taste.
Squeeze fresh lime juice on top and serve with sour cream, salsa, and guacamole; garnish with fresh cilantro.
Pro-tip: Make it a Party Nacho Bar! Follow steps 1-3 but then set out all possible toppings in bowls around the table and let everyone choose their own toppings.
Next time you get ready to order your game day pizza – grab a few of these ingredients and whip up these easy apps!
---
Earn game day Rewards!
Use our app to order your pizza AND groceries – and score rewards points!
---