If you need a fun idea for your next party, you've come to the right place! No matter the occasion, a Pizza Party is the best kind of party. All you need to do is set a date, invite your friends, and get planning. But it doesn't have to be stressful – with the right tools it can be a great success.
So, keep reading because Casey's has you covered!
Here's a few tips on how to throw a great Pizza Party:
1. Make it Easy & Work Ahead
Dishes? Nah. Work smarter not harder and get throwable utensils and plates in order to avoid a stack of dishes a mile high after your party. Plus, other essentials such as paper towels or freezer bags can come in handy both during and after the party.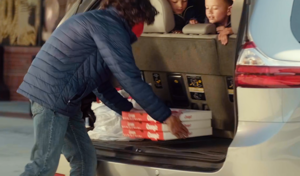 You don't have to make trips all over town just to bring a great party together, Casey's is your one-stop shop for everything! Of course, we have the food covered, but we'll also help you with quick supplies. Grab the paper plates, napkins, and ice at the same time you pick up your food, and you're all set. You can even order Curbside Pickup so you don't even have to get out of the car!
Pro tip: Don't forget the aluminum foil to send leftovers home with your guests!
2. Order GREAT Pizza
If you want to throw a great pizza party, you have to start with great pizza! We may be biased, but we are confident that we have the best around. Every morning Casey's team members prepare our famous, made-from-scratch dough fresh for the day, and then topped with real mozzarella cheese, fresh hand-cut veggies, and high-quality meats (yeah, we're hungry now too!).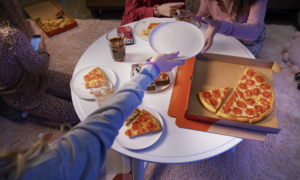 With large gatherings we also know there are many different tastes and needs to please. So… stock your party table with Pizza Party Packs for delicious pizza at a great deal!
Casey's Pizza Party Packs offer various choices ranging from single topping pizzas to a variety of specialty options, or a mix of both, all at amazing prices. Inviting a friend who doesn't eat meat? Order one of our vegetarian options! Have picky kids? Stick with something simple like Cheese or create your own pizza to customize it to personalized tastes!
You can also choose between our crispy Thin Crust or our handmade original crust. With a Pizza Party Pack order, you can get at least one of each, AND take advantage of our convenient pizza delivery or carryout.
Here are 3 of our favorite Party Pizza Deals:
1. 2 Large Specialty and 2 Large Single Topping Pizzas for $52
Mix and match to ensure that you have selections all your guests will love.
2. 4 Large Specialty Pizzas for $58
Make an epic entrance by picking up specialty pizzas such as fan-favorites Taco, Supreme, or Chicken, Bacon & Ranch.
3. 4 Large Single Topping Pizzas for $44
Did you know that pepperoni is the most popular pizza topping in America? You can't go wrong with this delicious topping!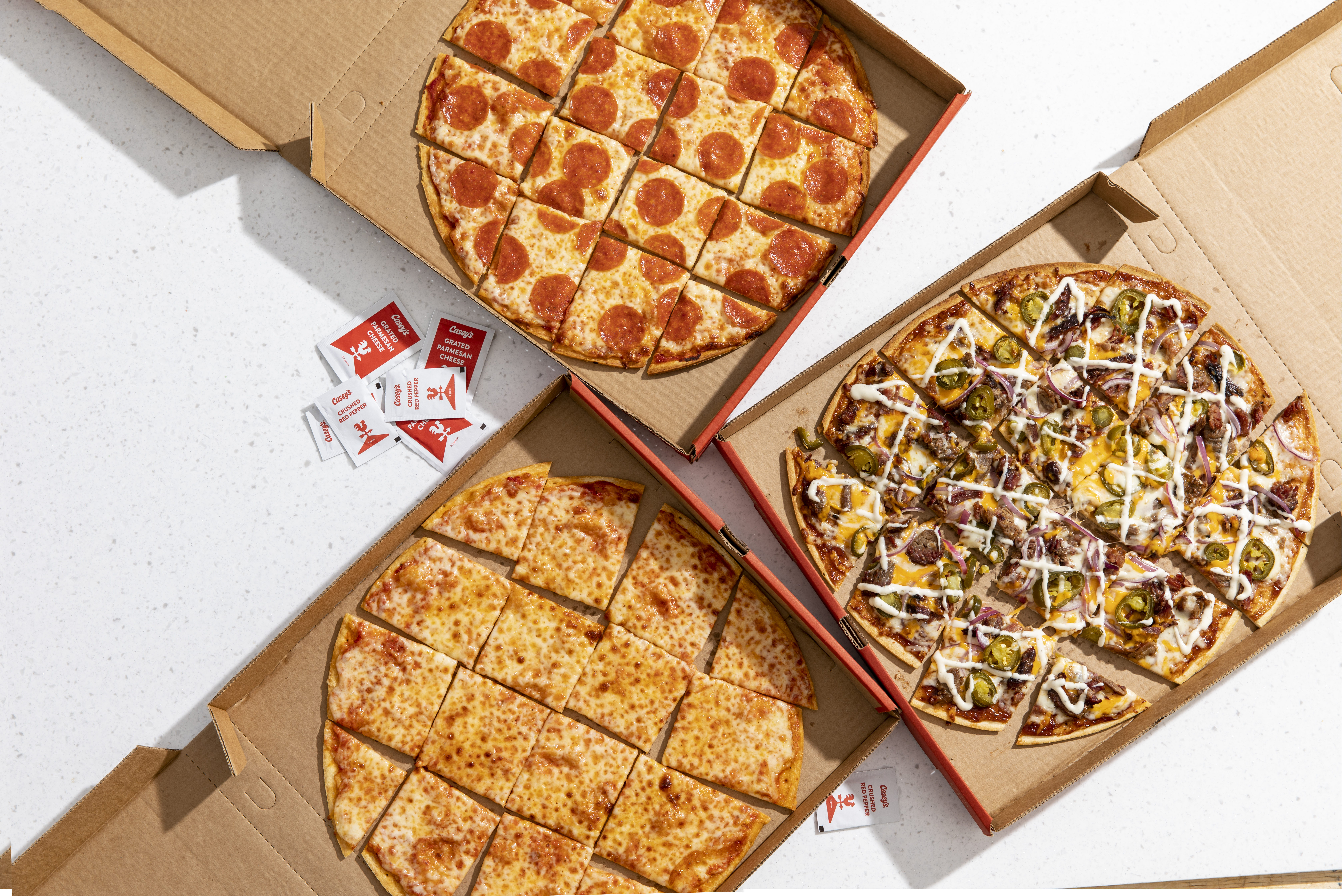 Create Your Own Ultimate Casey's Pizza!
Build your own pizza masterpiece to make sure it's just the way you and your guests like it. Simply select your size, crust, sauce, and toppings! Order a custom pizza for delivery or pickup now.
Looking for some inspiration? Check out a few of our team members' favorite unique creations.
Pro tip: A great day for a pizza party would be May 20th, National Pizza Party Day! Say cheese!
Check! Your pizza order is done. Now on to some other favorites!
3. Have more options besides pizza
Surprisingly, not everyone loves pizza (wild!). You're in luck, because we also offer great deals on other delicious party food like wings, breadsticks, and chicken tenders. Or, choose from assorted pinwheel wraps, sub sandwiches, and meat and cheese trays. Plus, almost every store has chips, desserts, soda, candy, snacks, and adult beverages … we could go on.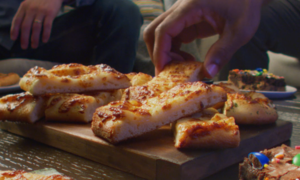 The point is, don't stress or spend hours prepping meals and snacks when we can make it easy – and super convenient – for you to feed a party full of people.
Our favorite non-pizza Pizza Party food:
Wings
Known to be a popular appetizer, order perfectly crispy wings online to spice up the party and choose from boneless or traditional, plus your favorite sauces for pairing!
Chicken
Casey's has many chicken items aside from wings for you to choose from: Chicken Tenders, Chicken Sandwiches, Popcorn Chicken, and more!
Cheesy Breadsticks
Put our Cheesy Breadsticks in the center of the table and they are sure to go fast! Enjoy with marinara or cheese sauce for extra flavor.
Chips
Salty snacks are a great side to have at a pizza party, especially once the main course is over and people want to continue snacking. Grab a wide variety to please all your guests' tastes!
Desserts
We have many dessert options available, but our obvious favorite for a Pizza Party? Our delectable Casey's Chow!
Drinks
Don't forget the drinks! Soda pairs well with pizza, and we have both 12-packs and 2-liters of guests' favorite pop options available.
Having a 21+ party? We have alcoholic beverages are available at select stores!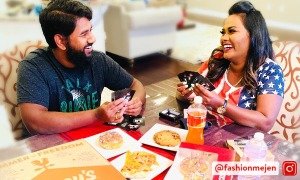 Check out our guide to The Best Pizza and Beer Pairings!
We Deliver!
Too busy setting up decorations and cleaning your home to go pick up the supplies and party food? No worries! Casey's delivery is available at over 1,200 stores in almost 800 cities.
Here's How it Works:
Choose delivery, then enter and validate your address. Pick all your favorite items from Casey's menu, including your pizza choices, and then simply checkout! Once you place your order you will receive a text to track its status.
We make ordering easy through our mobile app, so download the app now! While you're at it, join our Casey's Rewards program and get access to great deals and exclusive offers in the store, online, and at the pump!
---
Party on!
Get the party started with all of Casey's delicious food and drinks options!
---