Updated on September 6, 2023 | May 5, 2023
Make a change to your lunchtime lineup and try our new Brisket Mac and Cheese and King's Hawaiian® Brisket Sandwich. Available this summer – you don't want to miss your chance to try these absolutely delicious new additions.
Brisket-Inspired Summer Lunch Ideas
NEW! Brisket Mac and Cheese
Casey's Mac and Cheese just got even better! In addition to our Bacon and Original varieties, you can now get Casey's Brisket Mac and Cheese, only in the app.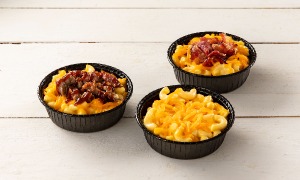 Pro-tip: Make it a meal and pair your Mac and Cheese with our delicious Boneless or Traditional Wings (plus your choice of amazing dipping sauces).

BBQ Brisket Pizza
Hooked on brisket and can't get enough? We also offer a BBQ Brisket Pizza which is perfect to order for dinner and share with the fam.
Haven't had this fan favorite yet? It starts on our made-from-scratch dough, then topped with BBQ sauce, hand-trimmed brisket, jalapeños, red onions, real mozzarella and cheddar cheeses, and finished with a ranch drizzle. Yeah, it's a must-order.
NEW! King's Hawaiian® Brisket Sandwich
Picture this: double-hardwood, pit-smoked chopped brisket topped with BBQ sauce, then served on a warm, uniquely soft, fluffy King's Hawaiian® bun – all that with an added touch of sweetness.
Sound good? Then you'll love our NEW King's Hawaiian® Brisket Sandwich.
Don't wait – this sandwich is only available for a limited time.
Pro-tip: Pair smokey & sweet with something refreshing. Grab any Medium Fountain or Frozen drink for only 89¢ this summer!
King's Hawaiian® is a registered trademark of King's Hawaiian Holding Company, Inc.
---
Time for lunch!
Looking for lunch near you? You're in luck! We have so many locations with delicious lunch options waiting for you.
---