Updated on June 19, 2023 | May 31, 2023
Summer is here, and so is this HUGE update!
We are so excited to tell you about our refreshed mobile app, refreshed so that you (yes, you!) can have the best experience ever.
Our enhanced mobile app experience includes an updated app design that makes it easier than ever for Rewards members to track points, redeem for rewards, and see how much money they've saved by shopping with Casey's Rewards.
Check out all that & more below ⬇
The Highlights
Choose Your Reward!
Here's the deal, Casey's Rewards points are easy to rack up and easier to redeem. And now we have quick redeem options so it is even simpler to choose your reward!
Ready to redeem your points? Simply tap the 'Choose reward' button and select your reward – you can choose from Casey's Cash, fuel discounts, and donations to your local schools.
Member Deals & Personal Offers
At Casey's, we LOVE to gift our guests with prizes, offers, free things, and more – especially our amazing Rewards members.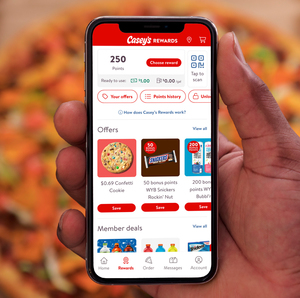 Not only do members earn points for everyday purchases, but we also have other incredible benefits, such as Member Deals. These amazing everyday deals are saved for you, so just use Rewards at checkout to access these savings.
Plus, we work hard to make sure that you have offers just for you and what you love. Be sure to check it out!
Not in Rewards? Join today to start saving!
Lifetime Savings Tracker
One of our favorite new features! Keep track of all your incredible savings in one spot on the app.
Download the App!
Download or update the Casey's app for the best experience and all of these amazing new features and savings.
---
Invite your friends!
Don't let your friends miss out on all the fun! Earn 100 bonus points when you refer a friend and they join Casey's Rewards.
---