Updated on November 2, 2023 | November 4, 2019
What's the best way to jumpstart your morning? How about grabbing a delicious cup of coffee from your favorite stop on the way to work?
At Casey's, we want to help you with your morning routine, and we want to give you something to help get you energized in the morning in the tastiest way possible. That's why we have an incredible line of fresh, ethically sourced coffee line to help you start your day off right!
Better Process, Better Taste
Our culinary team gave themselves a mission: find amazing tasting coffee that resembles café flavors and help Casey's earn the title of having the best gas station coffee. To make it happen, they used the highest quality coffee beans, grown by small, family-owned coffee farmers.
They discovered that delicious perfection comes from people who take pride in hand-picking the ripened red coffee cherries, taking the time to naturally wash and de-pulp them, and allowing them to sun-dry to reach their fragrant flavors. This process may take longer but it's guaranteed to deliver the best results. That's why all our new coffees use 100% Arabica, premium quality coffee beans from various small, family-owned farms like described above.
The coffee beans used in our blends have been grown in rich soil in the mountains and have been selected from the best coffee regions from around the world for the richest, boldest flavors.
Made Fresh for You
Along with having our coffee beans coming from a good source, the machine delivering your coffee has to be above par as well.
Our new Bean-to-Cup machines guarantee freshness because you are in charge of when the coffee is made. When you push the button, you can hear beans grinding, water pouring, and your coffee coming out hot & fresh. It brews right in front of you whenever you want a cup. Talk about fresh!
Flavors You'll Love A-Latte!
All of Casey's coffees are the result of the perfect balance of premium quality coffee beans, the right weight, roast color, and grind. Each has a unique taste for today's coffee connoisseurs, and each are available at select locations in both hot and iced form!
Our everyday flavors include:
Casey's Classic
A savory blend of Central and South American coffees, with a delicate balance of floral, citrus and creamy notes.
Hazelnut
A sophisticated aromatic brew that offers the elegant flavor of fresh roasted hazelnuts and a smooth aftertaste to match.
Medium Roast
The perfect mix of the finest Colombian beans, full bodied and roasted for a bright, rich nutty flavor.
Dark Roast
Smokey, exotic and heavy bodied and nicknamed as "one of the great romance coffees of the world."
Casey's Classic Decaf
A blend that is almost entirely caffeine-free. A mild roast that is smooth in taste, rich in flavor and well balanced.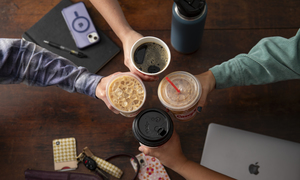 NEW! Colombian
Sourced from high-quality Single Origin Colombian beans, this medium roast features a bright and balanced flavor with nutty notes.
Pro Tip: Get your favorite flavor as Iced Coffee to spice it up (especially during the summer months!)
Limited-Time Specialty Coffee Flavors
Over the years, we've had many fan-favorite specialty coffees that were limited-time only. Check out some of our guests' favorites!
◆ Salted Caramel Toffee Coffee
◆ Gingerbread Coffee
◆ Mixed Berry Cappuccino
◆ Toasted S'mores Coffee
◆ Pumpkin Pie Coffee & Cappuccino
◆ Toasted Butter Pecan Coffee & Cappuccino
◆ Maple Pumpkin Spice Coffee & Cappuccino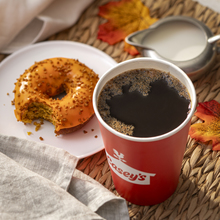 ---
Coffee fresh for you
Our Bean-to-Cup Coffee Machines deliver fresh coffee to guests every single day. Stop in for yours!
---