Updated on August 14, 2023 | June 29, 2023
July is National Ice Cream Month!
In the Midwest it is HOT HOT HOT, and here's the scoop – we have the perfect way for you to cool off with our many ice cream options and flavors.
Now it's time to pick your favorite DIY ice cream treat! Easy to make, and even easier to devour.
Chocolate Peanut Butter Shakes
Ingredients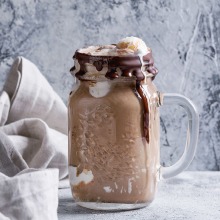 Directions
In a blender, combine the milk, ice cream, peanut butter and syrup; cover and blend until smooth.
Pour into a tall, chilled glass.
If desired, garnish with whipped cream, peanut butter cups, and additional chocolate syrup.
Pro-tip: Are you a peanut butter lover? Swap the chocolate ice cream for our new Peanut Butter Cup flavor!

Frosted Sugar Cookie Sandwich
Ingredients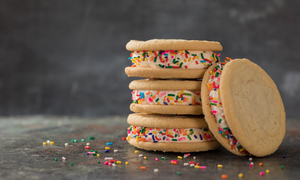 Directions
Preheat oven to 375 degrees Fahrenheit.
Make cookies as directed on the pouch, using butter and egg, but make sure to place dough in rounded tablespoonfuls 2 inches apart on an ungreased cookie sheet.
Bake for 11 to 13 minutes or until the edges are light golden brown. Cool 1 minute before removing from the cookie sheet, then cool completely (about 30 minutes).
For each ice cream sandwich, place 1 scoop of ice cream (about ⅓ cup) between 2 cookies.
Gently press cookies together (ice cream should spread to the edge of cookies), then roll ice cream edges in sprinkles.
Eat immediately, OR to save for later, wrap sandwiches individually in plastic wrap. Place in a resealable freezer bag and freeze until needed.
Brownie Sundae
Ingredients
Directions
Melt the heavy cream, chocolate chips, and instant coffee in a bowl over simmering water until smooth, stirring occasionally.
Place a brownie on each plate, top with a scoop of ice cream, and serve with warm chocolate sauce.
Pro-tip: To mix it up, stir the warm chocolate sauce with the ice cream in a cup, then add crumbled brownie pieces and whipped cream on top.
Cookie Dough Float
Ingredients
Directions
Divide ice cream between two glasses.
Slowly pour root beer over ice cream until foam reaches top.
Drizzle with chocolate syrup and garnish with chocolate chip cookies and chocolate chips as desired.
Pro-tip: Chill your glasses in the freezer 30 minutes before making your float!
Step 1:
Find ice cream near you (just search for your local Casey's!)

Step 2:
Select your flavor below and secure your selection by using Casey's app for delivery or pickup.

Step 3:
Choose the best ice cream recipe for you from above, follow the directions, and ENJOY!
---
Stay cool all summer long
Stop by Casey's for delicious ice cream, refreshing fountain drinks, and more to stay ~chill~ this summer.
---