Updated on October 25, 2023 | October 2, 2020
Deals are valid at time of posting, please check our current deals page for all current pizza, food, and drink deals.
It's spooky season! Read our spellbinding ideas below to see which activity sounds the most fitting for you and how to make this your tastiest Halloween yet!
Plus, no matter how you're celebrating Halloween, we've got some wicked-good pizza deals for every occasion.
A Fall Bonfire
Enjoy the autumn night outdoors with friends and family while basking in the warmth of a bonfire. Everyone can space out in their lawn chairs and watch as crisp logs and leaves burn as you share horror stories or just catch up with one another.
While enjoying everyone's company, you can sip on your favorite cider or beer and share a meal everyone will love before roasting marshmallows for s'mores to end the night.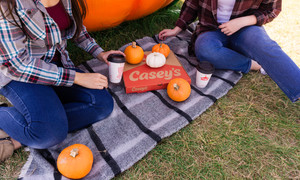 If a bonfire is your ideal way to celebrate Halloween this year, then the ideal feast is our Specialty Party Pack. Bring something everyone will love – grab 4 Large Specialty Pizzas including our Taco, Supreme, Veggie, and Meat Galore Pizzas, all for just $58.
Who needs candy when you've got pizza?! (But if you're like us and still want candy, don't worry, we have that too!)
A Movie Night In
Get cozy in your comfiest PJs and curl up on your couch to binge all your favorite so-good-they're-scary Halloween movies. You could start off the night with the classics like Hocus Pocus and then move to the ones that will haunt your dreams like Scary Stories to Tell in the Dark.
Share the fright with your family or have a virtual watch party with friends. Add in some yummy munchies to make it extra-special.
If a movie night sounds like a spine-tingling way to spend your night, then your perfect deal matchup is our Save $8 on 2 Large Pizzas & 2 Sides! Plus, even if you're not trick-or-treating this year, you can stock up on all your favorite candy so you can snack through the whole movie.
A Small Get-Together
Gather with your closest family and friends for something fun like a little costume party. Set up a photo booth, have a silent disco where everyone could boogie to their own favorite tunes, and host a pumpkin carving contest.
If a small gathering sounds like a spooktacular way to celebrate Halloween, then your go-to deal is our Mix and Match Party Pack. This pizza pack has something for all ages: Get 2 Specialty Pizzas and 2 Single Topping Pizzas for just $52. Your house will be the one that everyone wants to stop by.
Pro tip: You can also get all of your essential party supplies with your order!
Trick-or-Treating
Instead of handing out solo candy bars or treats, this year try putting together small goodie bags to hand out or leave on your doorstep. Don't forget to sneak a few of those treats for yourself!
If a night of trick-or-treating sounds like your preferred way to enjoy the evening, then your perfect meal deal is our BOGO 50% Off Large Single Topping Pizzas!
Don't forget to on Cheesy Breadsticks and Crispy Wings to munch on. This is a great deal to feed the whole house before a fun-filled night of trick-or-treating!
Bonus: Jack-O'-Lantern Pizza
Just for boo! Grab our limited-time Jack-O'-Lantern Halloween Pizza, a delectable pizza started on made-from-scratch dough, topped with pizza sauce, real mozzarella cheese, pepperoni, and black olives for eyes!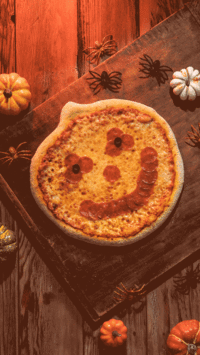 ---
Halloween Deals for Every Party!
Whatever your Halloween looks like, we have a perfect deal for you!
---