Updated on November 16, 2023 | October 10, 2022
Whether you're planning an epic Halloween party or are just looking to celebrate at home, these spooky Halloween-inspired drinks are sure to please you and your guests. These boozy concoctions are so incredible it's scary!
Dark & Stormy Whiskey Sour
Bourbon Whiskey is the perfect alcohol to get in the spooky spirit!
Ingredients
1 oz Silk and Gold Bourbon Whiskey
2 oz Whiskey Sour mix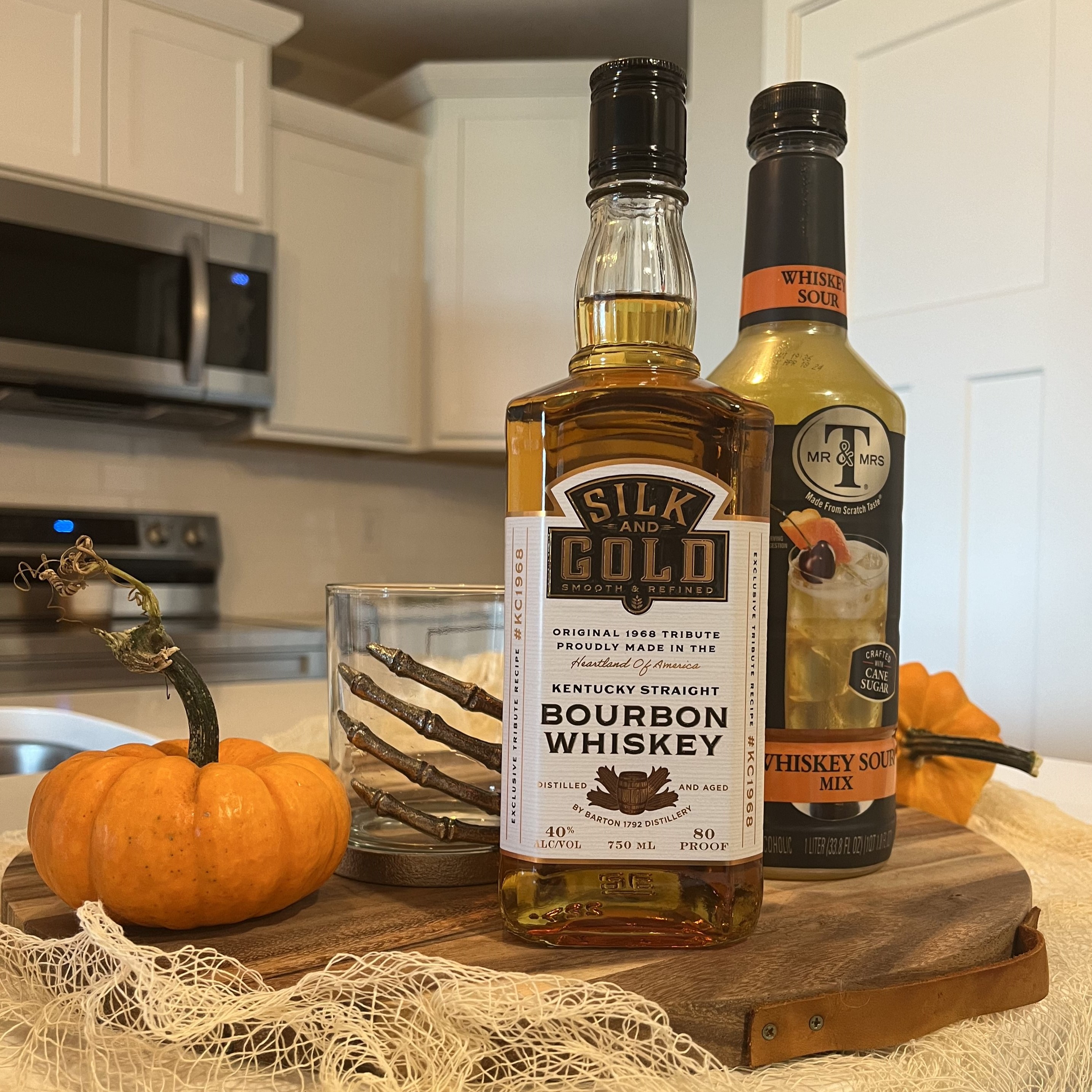 For garnish:
Directions
Add Bourbon Whiskey and Whiskey Sour mix to a cocktail shaker. Shake well.
Pour over ice in a whiskey glass.
Garnish with an orange slice and enjoy!
Apple Cider Mimosa
This is bubbly goodness you can't pass up – all the fancy without any of the fuss.
This recipe makes 2 cocktails but can easily be scaled up to serve a larger group. Break out the bubbly, grab your champagne flute, and let's toast to a fabulous beverage!
Ingredients
4 oz apple cider
8 oz chilled Champagne
2 oz Brandy
For garnish:
Sugar and cinnamon mix
Corn syrup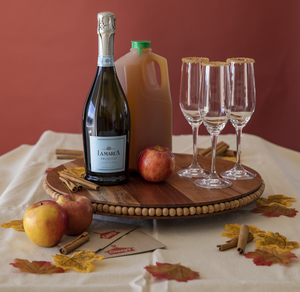 Directions
Rim champagne flutes with sugar and cinnamon using the corn syrup method mentioned earlier.
Pour brandy, apple cider, and then champagne into each glass.
Enjoy!
Candy Corn Martini
What's more festive than candy corn during spooky season? Try this twist on a classic Halloween treat.
Ingredients
6 oz Cake or Vanilla Vodka
1/4 cup Casey's Candy Corn
3/4 cup pineapple juice
3/4 cup heavy cream
For garnish:
Halloween sprinkles
Corn syrup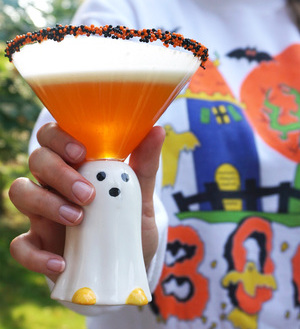 Directions
In a covered jar or container, add candy corn to the vodka and let it sit for 6 hours or overnight.
After the 6 hours are up, strain the vodka to discard candy corn.
Next, prep your glasses. Pour corn syrup in a single layer on a shallow plate. Add sprinkles to another shallow plate. Then, dip the rim of your martini glass into the corn syrup first, then the sprinkles.
Pour the vodka into 2 martini glasses, dividing it evenly.
Divide pineapple juice in half and pour carefully over the back of a small spoon on top of the vodka layer in each glass.
Similarly, divide the cream in half and use the same spoon technique to add cream to each martini glass.
Note: Follow the above instructions to get a layered effect. You can also shake the vodka, pineapple juice, and cream together and pour into glasses if you aren't particular about the aesthetics.
Witches Brew Cocktail
This wicked witch brew is the perfect drink for a Halloween get-together (plus, the punch bowl will make an eerie centerpiece!).
Ingredients
1 (26 oz) bottle of Frost Trail Vodka
1/2 (1 gallon) Hawaiian Punch Green Berry Rush
1 (2-Liter) Casey's Lemon Lime Soda
For garnish:
Halloween Sprinkles
Corn Syrup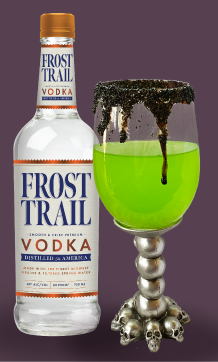 Directions
Add Vodka, Hawaiian Punch, and Lemon Lime Soda to a punch bowl, then gently stir together.
Rim your glasses by dipping them into a shallow plate with corn syrup, then a shallow plate with Halloween sprinkles
Add some fun with gummi worms, and you're done! This recipe serves about 12 people.
Pro-tip: Use black Halloween sprinkles to make the rim pop against the eerie green of this spooktacular sip.
Spooky Mist
This quick & easy drink is eerie-sistible!
Ingredients
1 oz Aperol
1 oz fresh lemon juice
1 bottle of Blue Moon
Optional: Orange Zest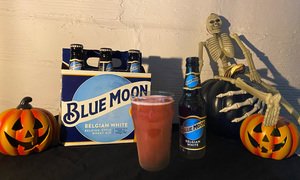 Directions
Combine Aperol and lemon juice in a pint glass, filled with ice if desired.
Top the glass off with Blue Moon until full.
Garnish with orange zest for decoration.
Eyeball Shots
This terrifyingly tasty drink has its eye on you!
Note: This drink is made for everyone and doesn't include alcohol, but if you do want to make it BOOzy, just add vodka.
Ingredients
2 cups chilled white grape juice
2 envelopes unflavored powdered gelatin
1 cup chilled ginger ale
16-24 Casey's Gummy Eyeballs
Optional: Red food coloring
Optional: Frost Trail Vodka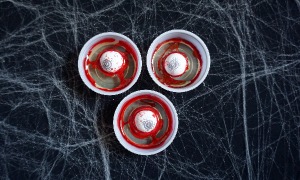 Directions
Place a ½ cup of grape juice in a small bowl. Sprinkle the gelatin on top and whisk in. Allow the gelatin to sit for about 10 minutes so it softens and absorbs some of the juice.
Microwave the bowl for 20 seconds to liquefy the gelatin (if it's not fully liquid and clear after 20 seconds, then proceed by microwaving in 5-second increments, until melted). Be careful not to overheat so the gelatin mixture doesn't get too hot.
Next, combine the remaining grape juice and ginger ale (and vodka if you are using it) in a large measuring cup or pitcher that has a spout. Whisk these ingredients together then continue to gently whisk as you pour the gelatin in.
Pour the juice into 16 plastic shot glasses, remembering to leave room at the top since you'll be adding eyeballs later.
Refrigerate shot glasses for about 30 minutes, checking their texture every 10 minutes. You want the gelatin to start getting thick like cake batter. It shouldn't be super firm, but it should be thick enough to suspend the eyeball candy in the middle of the glass. This process can take anywhere from 30-50 minutes. Check glasses regularly and don't be afraid to check the texture with a spoon.
When the gelatin is thick enough, press candy eyeballs into the middle of each shot glass, leaving part of it sticking out on top. You can use a thin knife or spatula to push it down into the gelatin or use your finger.
Chill shots until completely firm, about 2 hours.
If desired, add red food coloring around the eyeball candies in order to up the creep factor!
Pro-tip: You can make your shots several days in advance and enjoy them later! Over time the gummy eyeballs will absorb the moisture, making them best to enjoy within 3 days of the prep.
Hot Pumpkin Cocktail
Fall brings cooler temps to the Midwest, making us crave those cozy moments. This Hot Pumpkin Cocktail is perfect for curling up with a blanket in front of the fire.
Ingredients
4 cups milk
2 cups Cinnamon Vanilla Irish Cream
1/2 cup Vanilla or Pumpkin Pie Vodka
1 can Pumpkin Puree
1 ½ teaspoon Pumpkin Pie Spice
Optional: Whipped Cream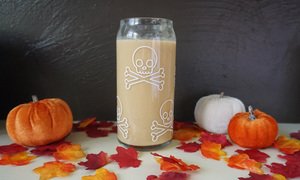 Directions
Bring the milk, Irish Cream, and vodka to a boil in a large pot over medium-high heat.
Once boiling, turn down heat to low and stir in pumpkin and pumpkin pie spice. Stir quickly to incorporate.
Serve warm, topped with whipped cream, and garnish with a little more pumpkin spice or cinnamon.
Pro-tip: Double the pumpkin and enjoy with Casey's Pumpkin Pie Pretzels!
---
Which spooktacular sip will you try first?
No matter which fall drink recipe interests you most, Casey's has many of these ingredients available in store or online! Alcohol is available at select Casey's locations.
---