What is Friendsgiving? Friendsgiving is a term that people have come to know over the past decade as a way to celebrate Thanksgiving with friends! Whether you live far from your family or are wanting to extend your holiday to gather with more people who mean a lot to you, Friendsgiving is the perfect way to celebrate.
When is Friendsgiving?
You may be asking, when is Friendsgiving? The cool thing about this holiday is that there's really no specific day to celebrate and no rules on how to do so!
However, if you're looking for Friendsgiving ideas on how to put together your special party – we have a few tips for you.
Tip #1: Appoint a Helper
The last thing you want for this gathering is to feel overwhelmed. So, start thinking about any friends of yours that could help you plan and throw this party.
Do you have a "mom" in your friend group? They'd probably love to help! Have them coordinate and send out the invites to get started.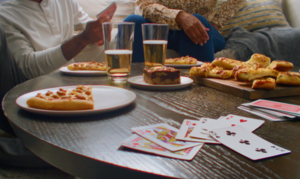 Pro-tip: A thoughtful text is nice, but what about a little something more? There are so many options out there for e-invites to make it a bit more fun. Like we mentioned above, there's no real date on when to host Friendsgiving, but make sure to send your invites at least 2-3 weeks ahead of time… the holiday season gets busy!

Tip #2: Create a Food Poll
After you've decided on the guest list, send out a survey on Friendsgiving meal ideas so you can find out your guests' food likes and dislikes. Do they want to have a traditional pot-luck style meal or would they prefer to mix it up? Maybe a bit of both? Then you'll know what kind of menu you need to please the crowd!
Want something easy and delicious for your main meal? How about including Casey's pizza in your Friendsgiving tradition?


Here's a few of our favorite pizza deals for larger groups:
2 Large Specialty and 2 Large Single Toppings Pizzas for $52
Mix and match to ensure that you have selections all your guests will love.
4 Large Specialty Pizzas for $58
Did we mention the cost savings? Try one of our fan-favorite specialty pizzas like Taco or Meat Galore!
4 Large Single Topping Pizzas for $44
One word – pizza. And lots of it. Did you know that pepperoni is the most popular pizza topping in America? You can't go wrong!
Pro-tip: Preorder for the festivities to make day-of even easier!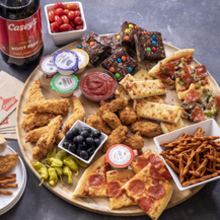 If pizza isn't in the cards for your group, we still have plenty of snacks and appetizers to supplement your spread. Here are a few ideas of what to bring to Friendsgiving that are sure to be crowd-pleasers:
Tip #3: Stock Up on the Basics
Make sure you have the household essentials you need to make this party a success.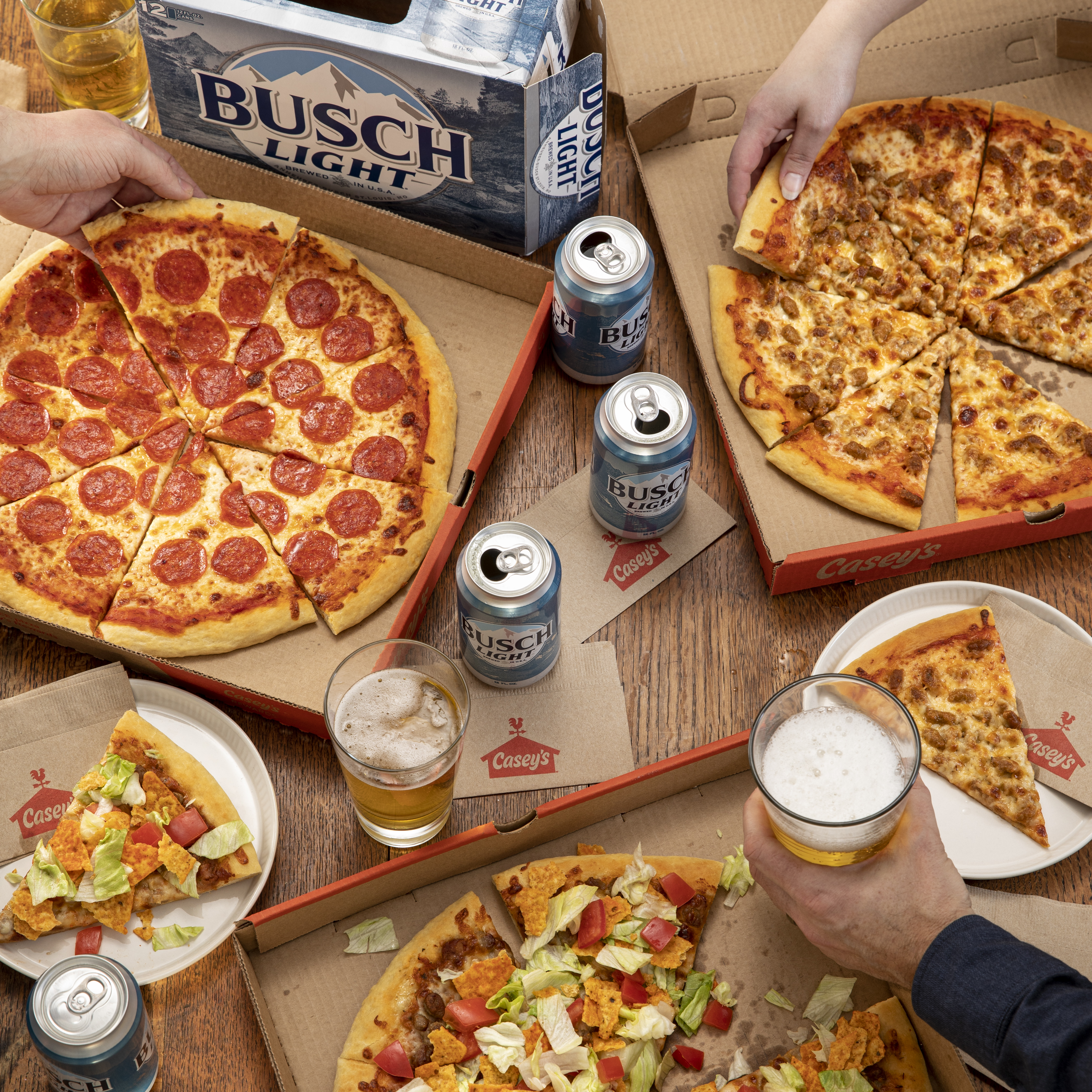 You don't even have to make trips all over town just to bring the party together either. Casey's can be your one-stop shop for everything! Of course, we have the pizza and sides covered, but we'll also help you with the quick supplies. Grab the paper plates, napkins, and ice while you pick up your food, and then you're all set.
Pro-tip: Don't forget the aluminum foil to send leftovers home with your guests!

Tip #4: Jazz Up Your Drink Selection
Make your drink selection a little more fun than usual by having each of your guests bring their own concoction to share with the group. Have the group vote for their favorite one!
Need help coming up with a delicious drink idea? Try one of our fall-inspired recipes!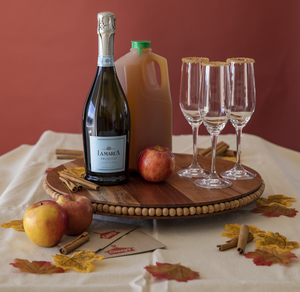 Casey's also has a variety of drink selections ranging from soda pop, iced tea, energy drinks, and more! Try the various different flavors today!
Pro-tip: Add vodka, rum, or another favorite alcohol to soda or tea to instantly step up your drink game.
Did you know that Casey's is The Official Pizza & Beer Headquarters™ and offers alcohol delivery at select locations? Have the alcohol for your gathering delivered right to your door along with your meal, snacks, and more! How much easier can it be?
Check out our alcohol delivery
Tip #5: Have an Activity
We know what you might be thinking, do you really need a game or activity? The true activity is eating as much food as you possibly can, right?
That said, having fun Friendsgiving games for your guests can make the party last longer and be more memorable. To start, consider what your friend group likes to do or thinks would be fun.
Here are a few ideas to get you started:
A Friendsgiving Piñata
Thank You Note Station
Thanksgiving-themed BINGO
Friendsgiving Photo Booth with props
Holiday Movie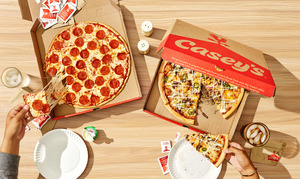 We Deliver!
Did you know that Casey's delivers?
Here's How it Works: On the app or online, choose delivery and type in your address. Then, pick all your favorite items from the Casey's menu, including your pizza choices! Once you place your order you will receive a text to track its status.
---
Ready to get your Friendsgiving started?
Here at Casey's, we've got everything you need to throw the perfect Friendsgiving party.
---